Ver en Español
Expansão das relações comerciais
Indústrias de defesa do Brasil e da Turquia estudam novas oportunidades de negócios
Fotos: Abimde
20/04/2021 | Belo Horizonte
Roberto Valadares Caiafa
A Abimde participa esta semana do Brazil and Turkey Virtual Sectoral Trade Delegation Event, organizado em parceria com o governo da Turquia e a Defence and Aerospace Industry Exporters' Association (SSI), entidade que reúne as indústrias de defesa do país.
O evento, que é realizado de forma virtual devido à pandemia do Coronavírus, teve início na manhã desta segunda-feira e segue até a sexta-feira (23) reunindo diversos encontros entre empresas brasileiras e turcas.
O objetivo do evento é estimular as parcerias bilaterais, em especial os contatos B2B.
"Brasil e Turquia têm um grande interesse em ampliar suas relações comerciais, especialmente no setor de Defesa. Tenho certeza de que as reuniões B2B serão muito valiosas e aumentar essa oferta de oportunidades é uma prioridade para a Abimde", afirmou o diretor de Projetos e Relações Institucionais da entidade, Paulo Albuquerque.
Na abertura, o presidente da Abimde, Roberto Gallo, falou sobre o importante passo dado com a realização do evento. "Para mim é motivo de alegria pessoal ver a frutificação dos esforços pela aproximação. Os dois países não dividem apenas os mais altos valores no teatro das nações, mas buscamos também um caminho para que nossas capacidades soberanas sejam potencializadas em parcerias equilibradas".
Gallo destacou as qualidades da BIDS (Base Industrial de Defesa e Segurança) e sua competitividade no mercado internacional e que seu principal foco de crescimento é por meio de exportações. Ele destacou também a excelência tecnológica do setor. "O Brasil possui uma massa crítica em pesquisa e desenvolvimento em geral, com grandes universidades e institutos de pesquisa".
Interesse mútuo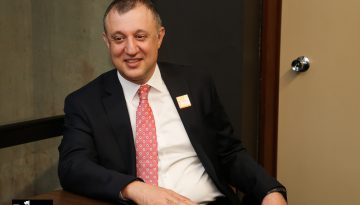 Os representantes do governo turco e também da indústria de Defesa local destacaram o grande potencial de parcerias e novos negócios entre os dois países.
O presidente das Indústrias de Defesa do governo da Turquia, Ismail Demir, falou do interesse em contar com as empresas brasileiras para reforçar alguns segmentos da estrutura militar do país. "Temos de fazer parcerias, não só comprar e vender produtos".
O Embaixador da Turquia no Brasil, Murat Yavuz Ates, falou que a meta para um futuro próximo é elevar para US$ 10 bilhões o volume de negócios entre os dois países, cinco vezes mais do que registrado nos últimos anos.
 © Information & Design Solutions, S.L. Todos los derechos reservados. Este artículo no puede ser fotocopiado ni reproducido por cualquier otro medio sin licencia otorgada por la empresa editora. Queda prohibida la reproducción pública de este artículo, en todo o en parte, por cualquier medio, sin permiso expreso y por escrito de la empresa editora.